RFID Shielding solutions for Stores
>Shipment
>Sales Floor/Backstock isolation
>Perfect Sales floor replenishment
(Also relevant in DC for picking area RFID shielding)
To be able to read and count what is in a cardboard/palet/rack even if it is surrounded by other RFID products (counting, shipping, reception)
Easy to use with the optional structure on stainless steel castors
Lightweight and practical, installation facilitated by a zipper
Restocking alert and product allocation
Isolate the web picking area in order to be able to trigger restocking alerts
Making insulating curtains for connected cabins
Isolate areas in a warehouse
Insulation of storage doors, for a premium finish of cabins or to isolate hard-to-reach places
Delimitation of small flat and smooth surfaces
Isolate Merchandising
White paper anti-wave shield
Width 94 cm
Delivered according to your measurements
Fire standard: M1
also exists in adhesive version
ISO PAINT 26 Anti-wave paint
RFID shield black protective paint.
– Monolayer
– Without earth connection
– Drying in 4 hours – Recoatable: 12 hours
– Yield: 5m2 / L 
ISO 325 Transparent adhesive film
The multi-alloy ISO 35 film reduces by 25dB the penetration of electromagnetic waves passing through a glazing at a frequency of 1 Ghz.
That is to say an attenuation in V / m of 90%.
With a light champagne exterior, it retains high luminosity and transparency.
High-frequency attenuation 25dB.
ISO 5 and ISO 10 Adhesive tapes
ISO 5 adhesive tape – M1:
• 5 cm x 10 meters adhesive tape.
• For joints, skirting boards, doors and small surfaces.

ISO 10 adhesive tape – M1:
• 10 cm x 10 meters adhesive tape.
• For joints, door frames, small surfaces and wall corner finishing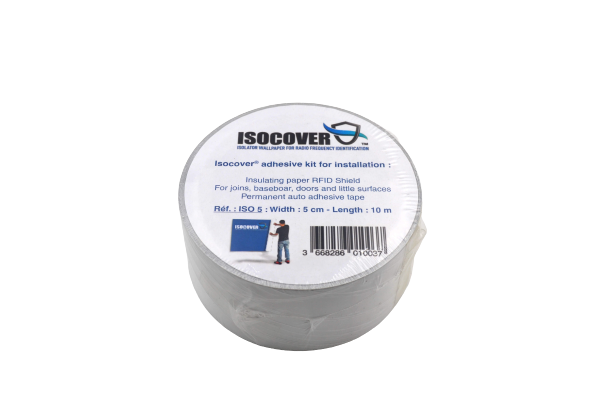 Box reception or despatch bell enabling confined reading.
Handle with elastic to prevent RFID signal leaks
Light and practical : Weight 450 gr